Having a firm and sexy belly is the dream of most people around the world. This can be achieved through a good diet plan and – you guessed it right – exercise. People nowadays are finding it hard to squeeze gym time to their already busy schedules. Because of this, they tend to live an unhealthy lifestyle. This later becomes a bad habit that leads to unnecessary weight gain and ugly fat bulges, most especially in the belly area. If you want to know how to lose belly fat but you are having a hard time going to the gym, the only way to solve your problem is by exercising at home.
What are the Belly Exercises that You Can Do At Home?
The best thing about exercising in your own home is you can practically do everything without getting worried about other people. You can blast your stereo to full volume, exercise while watching your favorite TV show or movie, and wear your favorite clothes without offending anyone. You can even exercise at your own pace without getting competitive with other gym goers.
Here are some exercises that you can do at the comfort of your own home:
Planking. Planking is not just a pose used for photographing yourself or your friends for social media. It can help you define your abs and shape it properly. It helps a lot if you do this particular exercise for 30 seconds. Increase the duration of planking as you gain experience.
Crunches. This is also commonly known as sit-ups. Lay your back down on the floor, bend your knees, and keep your feet planted firmly on the floor. Put your hands behind your head and slowly lift your upper torso towards your knees without moving your lower body. You will feel pressure in your abdomen as you do this. Lay back slowly. 20 repetitions per round is the ideal number of doing crunches. Crunch for three rounds and rest for only one minute after every round. You can increase the number of repetitions every week to challenge yourself.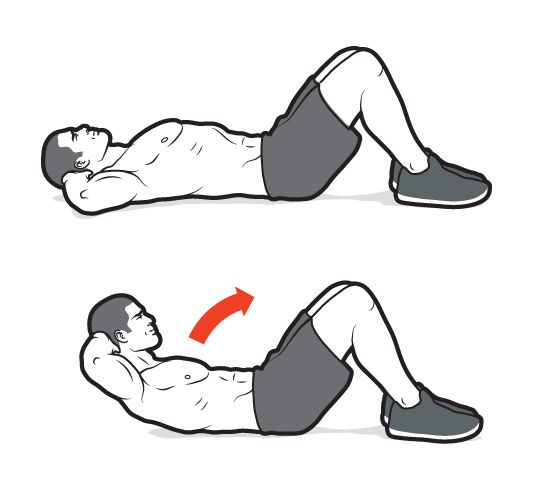 Toe Touches. Lie down on the floor, slowly elevate your feet, reach out and let the tips of your fingers touch your toes. Do 20 repetition of this exercise every day. Increase the repetition every week as needed.
You have to remember that these belly exercises will become worthless if you are not doing cardiovascular exercises. If you want to know how to lose belly fat, running or jogging is the best way because it burns plenty of fat at any given time. Also, if you are not eating right, the fat in your body will only be replenished overnight. It is therefore important to also pay attention to what you are eating to achieve your weight loss goals.